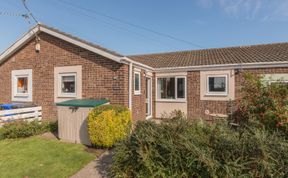 Holiday home
Rock Rose is a cosy semi-detached bungalow situated in the heart of Beadnell in the Northumberland Area of Outstanding Natural Beauty and can sleep two people in one double bedroom. There is a shower room with a walk-in shower. The rest of this ground floor cottage contains a kitchen and a sitting room with dining area and electric fire. To the outside of the bungalow there is off road parking for one car and an enclosed front patio with furniture. Being located just a short stroll from the Northumberland Heritage Coast, restaurants, beach and village shop, Rock Rose is ideal for a couple looking to explore this scenic area.

Region
Northumberland is a heady combination of fishing villages, market towns, sandy beaches, magnificent castles and historic Hadrian's Wall, tied together by beautiful countryside and abundant wildlife.

Amenities
Electric central heating with electric fire. Electric oven and hob, microwave, fridge, freezer, washing machine, TV with Freeview, DVD, CD/radio, WiFi. Electricity inc. in rent. Bed linen and towels inc. in rent. Travel cot and highchair. Off road parking for 1 car. Enclosed front patio with furniture. Two well-behaved pets welcome. Sorry, no smoking. Shops and pubs 2 mins walk. Note: One step up at entrance doorway.
Accepts Pets
Cooker
Cots
Enclosed garden
Fridge
Garden
High chair
Kettle
Linen provided
Parking
Parking space
Towels provided
TV
Washing machine
Wifi
Near Pub
Mrs Richmond
August 2020
A brilliant location.. The cottage was spotless and the owner had gone to great lengths to make sure you had everything you could possibly need.,even for dogs .would definitely recommend.
">
- Mrs Richmond, August 2020
August 2020
Lovely cottage in a good location.. Had everything we needed, and the little extras made us feel very welcome!
">

- Ms Barfield, August 2020
July 2020
This was the best cottage for cleanliness as well as modern.. secure front garden for the dogs . suntrap almost all day. will be rebooking
">

- Mr Burns, July 2020
February 2020
Change the shower head.. The location and facilities are fab. Easy reach to all attraction places in the area. Nice pubs and restaurant in village. Great off road parking. Thoroughly enjoyable experience for me wife and dogs. Best area in the uk for dog friendly stuff. That's why I travel to the area 4 or 5 times each year. Stunning seaside and coastline. Cottage spotless. Would recommend to anyone
">

- Mr Fish, February 2020
November 2019
A very warm welcome,a smashing little cottage,dogs and us love it! ,already booked for next year,excellent!.
">

- Mr Robinson, November 2019
October 2019
The bungalow was nice and modern, extremely clean and everything we needed was there and more.. The television was great and the bungalow was warm. The big disappointment was the bedroom where it was difficult to get into bed, the bed was low and not very comfortable. For two people in there seventies this was not ideal! The pillows were awful and really needed to be replaced.
">

- Mr Hinchliffe, October 2019
August 2019
Rock Rose is a great place to stay, it has everything you need for a great holiday on the Northumberland coast.. Beadnell is a lovely little village to explore and the beaches are fantastic. We celebrated our 30th wedding anniversary during our stay and couldn't think of a better place to have celebrated it. We have stayed at Rock Rose several times and cannot wait to return in the future.
">

- Mr Brown, August 2019
August 2019
This is our second visit to Rock Rose and it is perfection - such a comfortable, homely cottage full of thoughtful little touches, with really thoughtful contact from the owner.. It's a really good base to explore the stunning Northumberland coast from. Highly recommended cottage, and a great experience booking through Sykes.
">

- Mrs Atkin, August 2019
July 2019
Just returned from another lovely holiday at this clean cosy cottage, our 5th stay.. Rufus our dog loves it here. Ideal location for visiting surrounding area, not far from the beach, shop and pubs. Craster Arms has a great beer garden & good food. We'll be back again later in the year.
<">

- Mr Newton, July 2019
<
June 2019
Rock Rose cottage was a lovely, small, cosy, well equipped place, minutes away from the most beautiful beach.. There is a shop, pub, and restaurant, just a few minutes walk away. We were holidaying without a car, so the proximity of bus stops and regular reliable buses was essential. Even the weather was kind to us. We had a fabulous fortnight and hope to be back at some point. The only minor criticism would be the size of the bedroom. It is hard to get in and out of bed because the space between bed and wall is tight. I'm not particularly big, but it was quite a squeeze.
">

- Mrs Harrop, June 2019
June 2019
Wonderful little cottage,clean and quiet,just a few minutes walk from the beach,dogs loved it! ,so impressed that we have booked to return in November.
">

- Mr Robinson, June 2019
May 2019
A lovely well-equipped cottage in a really nice area.. The accommodation is ideal for a couple and a dog. The bedroom is on the small side and the bed is a bit firm, but bed firmness is subjective. Overall the cottage is ideally placed for visiting the Northumberland coast and all its beauty.
">

- Mr Cairns, May 2019
May 2019
Great situation for exploring beaches and castles.. Small accommodation but thoughtfully equipped.
">

- Mrs Boyle, May 2019
May 2019
Great Cosy Bungalow And Every Thing We Needed And Close To Beaches Etc,,,Thanks
Mrs Rough
April 2019
This was an amazing place to stay .. The pictures really don't do the cottage justice ! Warm , cosy , quiet , clean , comfortable and well equipped . Perfectly placed as minutes to the beach and the little shop . We can not recommend this holiday home enough it truly is one of the best accommodations we have stayed in
">

- Mrs Rough, April 2019
April 2019
The Sykes agent helped us by finding us accommodation that we could take our 3 dogs to, this was extremely useful as we had been struggling to find anywhere.. The cottage was very good and just right for our needs, our only criticism would be that the bedroom is tiny and bed not very comfortable, the room feels claustrophobic, however the place was just right for a week away with our dogs. Thankyou!
Miss Astall
March 2019
This is a small cosy cottage in an excellent location in the centre of the village.. Easy walking distance of beaches, pub and very well stocked village shop. Highly recommend and hope to be back.
Mr Simpson
September 2018
Bed to low and not at all comfortable.. Had many sleepless nights. Shower was not up to much as water was slow in it's delivery. Took longer to have a shower.
Mr Newton
September 2018
Brilliant little cottage with a great location
Miss Hipson
September 2018
I've been visiting Beadnell now for over 5yrs and this cottage was by far the nicest I've stopped in.. It was very clean and comfortable and above all very cosy. Have booked again for next year.
Mrs Chamberlain
September 2018
Lovely cottage, well equipped
Mr Hillen
August 2018
Rock Rose is a clean and well equipped 1 bedroomed holiday let, in an excellent position close to village shop, village pub and café, and yet only a few minutes walk to the coastline and a long expanse of sand.. Ideally base for exploring Northumberland's many beaches and walks. Dog-friendly with a dedicated off the road parking space.
Mrs Mountain
July 2018
The only complaint I would have is the bed is quite firm but is obviously a personal taste..
Mr Atkin
July 2018
Everything about the booking process was easy, and the cottage exceeded our expectations.. The owner had left a puzzle book for my son, which was such a lovely touch, the decor was superb, the kitchen well equipped, the shower was good... Great DVD selection. Everything about the cottage delighted us. And Beadnell Bay is just glorious. I'd highly recommend Sykes, Rock Rose and Beadnell to anyone.
Mr Brown
July 2018
This was our 5th stay at rockrose and it never fail to put a smile on my face when I stay there.. It is well equipped, clean and well presented, I ticks all the boxes for a fantastic home from home holiday. The local beaches are the best in the country, if you like walking you wont be disappointed
Mr McHale
June 2018
The cottage was fantastic.. 5 min walk you where on the beach at Beadnell.Great for a week away and dog friendly.Will book with Sykes again.
Mr Merritt
June 2018
Everything necessary within walking distance including the access to the coast road..
Mrs Kilner
June 2018
The cottage was in excellent condition and approximately 5 mins from the beach.. We had a really fabulous holiday. Charlie the dog enjoyed going in the sea. He didn't want to come out of the water. We have booked again for the same time next year.
Mrs Bamborough
March 2018
My husband is an army veteran with PTSD.. First holiday in six years he loved the cottage and the beach and so did our dog. Loved it so much we've re booked. Cottage had everything needed and more.
Mr Brown
January 2018
Rock Rose is a fantastic base for a coastal holiday, it has everything you need for a relaxing holiday, if you like beach walking you will not be disappointed.. This was our 4th stay there and we are booked again for July
Mr Gray
November 2017
The sofa was a little uncomfortable.. An armchair would be nice. Over all an excellent Holliday.
Mr Newton
October 2017
Second stay @ Rock Rose.. Great bungalow, very clean & in a good location not far from beach & local pub. Ideal for our dog with enclosed garden. Will be back again next year.
Mr Hitchman
September 2017
Great base for a wonderful part of the country.. Perfect for two. Lovely and clean and well equipped.
Mr Cooper
June 2017
Brilliant place to stay in a brilliant location (beadnell)
Miss Cupit
June 2017
It was fully furnished clean and comfortable I had a lovely chilled time thank you
Mrs Morris
June 2017
Beadnell is a fantastic base to explore the Northumberland coast.. The bedroom in the property is very tight. Difficult to get in and out of bed. Only a few inches each side of the bed.
2Blades
April 2017
A perfect base for exploring Northumberland. The bungalow itself is well maintained and tastefully decorated throughout and has everything that you need in a holiday let. A real home form home.
2Blades
April 2017
We had a wonderful weeks holiday and were greatly impressed by the area- it fullfilled our every need and would and do recommend the area for a holiday.. Our dogs thought it was fabulous too
">

- Mr Samways, April 2017
October 2016
I think you should make it clear in your summary that although it states that there is of road parking for one car this is not actually at the property but further down the road.. Some people prefer to have their vehicle in sight for security.
">

- Mrs Kujat, October 2016
September 2016
Well equiped, however, the bedroom is very compact with limited storage space..
Miss Bamford
June 2016
The cottage is well equipped very clean and tidy and we will be staying again.
">

- Mr Lauris, September 2016
June 2016
The location was excellent and the cottage was very well equipped with towels, bedding, WiFi and kitchen essentials.. The décor was fresh and everything was clean. Thank you for a great week.
">

- Mrs Thornton, June 2016
June 2016
The cottage is well equipped very clean and tidy and we will be staying again..
Mr Archibald
May 2016
We were looking for a relaxing weekend, and we were not disappointed. The house was warm, comfortable, well decorated and clean.
">

- Miss Bamford, June 2016
May 2016
We were looking for a relaxing weekend, and we were not disappointed.. The house was warm, comfortable, well decorated and clean.
Tell us about your rental experience while staying at Rock Rose. Let us know if the listing matched your expectations. You can share your comments about the location, property owner/manager and all the unique features that made your stay a memorable one.